INTRODUCTION
Naturally occurring hypertrophic cardiomyopathy can occur in many other species besides humans. In humans, about 50% of patients with hypertrophic cardiomyopathy have a predisposing genetic disorder, characterized by left ventricular hypertrophy unexplained by secondary causes and a nondilated left ventricle with preserved or increased ejection fraction [1]. Although rare, spontaneous occurrence of left ventricular hypertrophy has been reported in laboratory rhesus macaques (Macaca mulatta) [2].
This case is the first case report in Korea of an experimental nonhuman primate that died due to left ventricular hyperplasia.
CASE REPORT
In this Pharmacokinetic (PK) study, adult female (11-year-old) Cynomolgus monkeys (Macaca fascicularis) were used as the research object. This PK experiment using non-human primates was approved by the Korea Research Institute of Bioscience and Biotechnology Institutional Animal Care and Use Committee (Approval No. KRIBB-AEC-21105), and was reported in compliance with the The ARRIVE guidelines (Animal Research: Reporting of In Vivo Experiments). The monkeys were maintained in individual indoor cages at the National Primate Research Center at the Korea Research Institute of Bioscience and Biotechnology (KRIBB) The monkeys were fed commercial monkey chow (Teklad 2050™, Envigo, Indianapolis, IN, USA) supplemented with various fruits, and were provided water ad libitum. Animal health monitoring comprised microbiological tests for B virus, simian retrovirus (SRV), simian immunodeficiency virus (SIV), simian virus 40 (SV40), and simian T-cell lymphotropic virus (STLV) once a year. The results of these health monitoring tests were all negative.
The monkey in question was enrolled in a safety evaluation trial of a new drug developed for the treatment of Parkinson's disease. On the procedure day, the animals were anesthetized with ketamine (5 mg/kg, Yuhan Pharmacy, Seoul, Korea) and atropine (0.04 mg/kg, Jeil Pharmacy, Daegu, Korea), and anesthesia was maintained with 1%–2% isoflurane (Hana Pharmacy, Hwaseong, Korea) in O2 at a flow rate of 2 L/minute using an anesthesia machine (Royal Medical, Seoul, Korea). Heart rate, respiration rate, saturation of percutaneous oxygen monitoring and body temperature were continuously monitored throughout the study.
The monkey was fixed after general anesthesia and the drug was administrated to the cisterna magna using an automatic injector. After 1 hour of drug injection, a sudden decrease in heart rate and saturation of percutaneous oxygen was observed on the patient monitor, and epinephrine (0.5 mg/kg, intravenous injeciton) and chest compression were performed immediately; however, the monkey did not recover and died.
After death, an autopsy was performed, and abnormal findings were observed in the heart. In gross lesions, the ventricular wall was thickened and the lumen was reduced (Fig. 1). The extracted heart tissue was stained with hematoxylin-eosin and masson-trichrome stain. Fibrosis and myocyte disarray were not observed under histopathological examination, but it was confirmed that cell density increased compared to the normal heart (Fig. 2).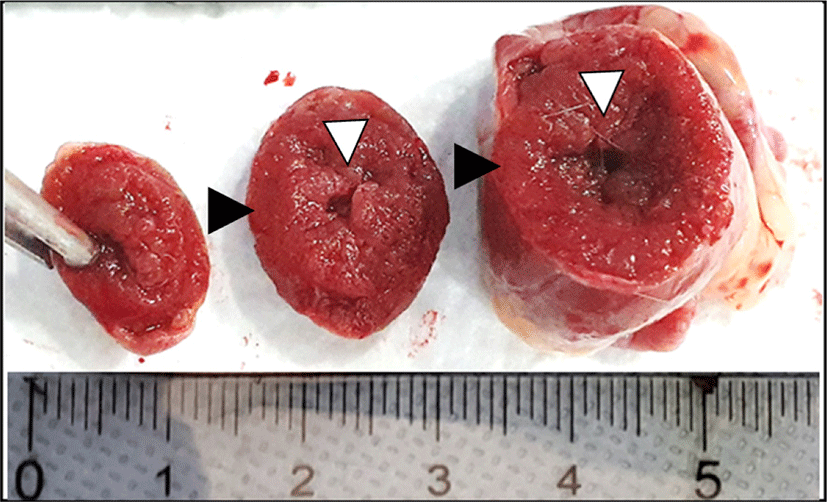 Download Original Figure
Download Original Figure
DISCUSSION
Macaca fascicularis (Cynomolgus monkeys, an Old World Monkey) have been widely used as the best standard animal model in preclinical studies for new drug development because of their physiological and genetic similarity to humans [3, 4]. In Korea, Cynomolgus monkeys are commonly used as a very important and useful experimental animal for drug development. Currently, this monkey is widely used in the research of infectious diseases such as pandemic SARS-CoV-2.
In humans, heart failure is a leading cause of death worldwide [5–8]. Left ventricular hypertrophy is defined as an increase in the mass and wall thickness of the left ventricle. Left ventricular hypertrophy is the most potent reason for adverse cardiac events, and is an important risk factor for sudden death, heart failure, stroke and arrhythmia [9–11]. Therefore, left ventricular hypertrophy is commonly associated with sudden cardiac death. In studies on human patients, left ventricular hypertrophy has been found to be highly related to heredity [1, 12–15].
Except for special experimental purposes such as congenital diseases experiments, the use of healthy animals without congenital diseases is an important factor in experiments using laboratory animals. Because the monkey's cardiac anatomy is similar to that in humans, non-human primates are a pivotal laboratory animal model in cardiovascular research, and thus, the selection of nonhuman primates with normal heart conditions is very important.
In this case, an autopsy was conducted due to the occurrence of sudden death during the pharmacokinetic experiment. This fatal disease was confirmed by autopsy in our experiment.
In cases of this condition, myocyte disarray and hypertrophy, fibrotic tissue deposition, nuclear atypia may be observed, but not necessarily [14, 16, 17]. In this case, only an increase in cell density was observed. However, left ventricular hypertrophy was confirmed by ventricular hypertrophy and reduced ventricular lumen in the heart.
Non-induced (Naturally-occuring) hypertrophic cardiomyopathy has previously been reported in a variety of species of feline, swine, and other monkey species [2, 18–20]. In humans, specific diagnostic criteria have been established, but there are no exact diagnostic criteria for Cynomolgus monkeys. We believe that it would be important to create a standard by accumulating necropsy data from cases of this disease observed monkeys.
In conclusion, echocardiography, cardiac computed tomography and/or cardiovascular magnetic resonance imaging are needed for the selection of healthy experimental non-human primates. Since hypertrophic cardiomyopathy can be inherited, particular caution is required in experimental monkeys used for breeding.