Degenerative mitral valve disease (DMVD) is one of the most common heart diseases and is present in approximately 75% of canine heart disease cases [1, 2]. Small dogs have the highest incidence of DMVD, and highly predisposed breeds include Cavalier King Charles Spaniel, Chihuahua, Maltese, Toy and Miniature Poodle, Pomeranian, and Pekinege [3, 4]. Despite high prevalence in small dogs, the underlying mechanisms of its pathophysiology are still unclear.
DMVD is functionally and pathologically similar in humans and dogs [5]. Therefore, pathogenesis of naturally occurring DMVD may be similar between human beings and dogs. Serotonin (5-hydroxytryptamine or 5HT) and 5HT-related mechanisms have been implicated in valvular disease in humans with carcinoid tumors [6, 7] or in those receiving serotonergic drugs [8-11] or ergot alkaloids [12-14]. In animal models, exogenous 5HT [15] or deficiency of 5HT clearance leads to valvular heart disease [16]. In canine DMVD, numerous reports have suggested that increased 5HT signaling plays a role in the development of this disease [17-19], and an increased circulating 5HT concentration as a potential source of heightened 5HT signaling has been detected in small dogs with DMVD [20]. This study investigated the association between serum 5HT concentration and naturally occurring DMVD in small dogs.
Client-owned dogs were prospectively recruited at the Veterinary Medical Teaching Hospital of Chungnam National University between 2010 and 2011. Forty-two dogs (22 females and 20 males) were enrolled in this study. DMVD dogs included Maltese (n=12), followed by Shih-tzu (n=10), mixed breed (n=5), Chihuahua (n=4), Miniature schnauzer (n=3), Miniature poodle (n=3), Miniature pinscher (n=1), Pomeranian (n=1), Yorkshire terrier (n=2), and Spitz (n=1). As inclusion criteria for the study, dogs had to show either direct evidence or echocardiographic evidence of DMVD. Dogs with congenital heart diseases were not included in this study. Dogs receiving serotonergic drugs (i.e., fluxetine) or fed serotonin-containing foods (i.e., bananas, tomatoes, pineapples, or walnuts) were excluded from this study. Patients receiving congestive heart failure therapy were included in this study. Twenty-four of 42 (57.1%) dogs with DMVD were receiving cardiac medication at the time of enrollment. The medication and number of dogs receiving each drug were as follows: furosemide, 22; ramipril 11; enalapril 6; hydralazine 6; pimobendan 6; spironolactone 5; digoxin 5; theophylline 4; carvedilol 3; thiazide 1; and sildenafil 1.
Dogs over 3 years of age and less than 6 kg in body weight were included in this study. Dogs were classified into mild, moderate, and severe groups (Table 1). Primary information was collected from each dog, including an owner interview, physical examination, blood sample, and echocardiography. All examinations were performed under the same consultation and without sedation in a quiet examination room. Five milliliters of venous blood was collected by jugular venipuncture from dogs that had been fasting and divided into plain red top tubes and EDTA-containing purple top tubes. Serum was harvested and stored at – 80°C for batched analysis. The investigators adhered to the Guide for the Care and Use of Laboratory Animals of Chungnam National University.
| | Mild | Moderate | Severe |
| --- | --- | --- | --- |
| Number | 12 | 15 | 15 |
| Sex (F/M)) | 6/6 | 6/9 | 7/8 |
| Age (years) | 12.33 ± 0.66 | 11.40 ± 0.64 | 10.33 ± 0.80 |
| B.W. (kg) | 5.19 ± 0.75 | 4.67 ± 0.69 | 4.39 ± 0.54 |
| Platelets (× 103/uL) | 441.92 ± 45.70 | 482 ± 37.61* | 500.75 ± 46.77* |
Download Excel Table
Serum 5HT concentrations were measured by a commercially available ELISA kit (Serotonin EIA Kit, Enzo Life Sciences Inc, MI, USA) according to the manufacturer's instructions. Whole blood samples were analyzed for platelet counts and morphology to investigate the relationship between serum 5HT and platelets. Platelet counts were performed by an automated system (MS9-5V v1.5.5, Melet Schloesing Lab., Osny, France), and platelet morphology was visually inspected.
Echocardiography was performed to verify diagnosis of DMVD, to assess the severity of DMVD, as well as to exclude other congenital heart diseases. Diagnosis of DMVD was based on characteristic lesions on the mitral valve apparatus (thickened and/or prolapsing mitral valve leaflets), and MR was demonstrated on a color Doppler echocardiogram from the left apical 4-chamber view. The left atrial to aortic root ratio (LA:Ao ratio) was measured from the right 2-dimentional short-axis view. M-mode values of the left ventricle, such as end-diastolic left ventricular internal dimension (LVIDd), end-systolic left ventricular internal dimension (LVIDs), and fractional shortening, were measured from the right parasternal short short-axis view (Table 2). The DMVD groups consisted of 42 dogs showing evidence of DMVD by echocardiogramechocardiography, and the dogs were classified as follows:into mild, moderate, and severe groups (Table 2).
| | Mild | Moderate | Severe |
| --- | --- | --- | --- |
| LVIDd (cm) | 2.51 ± 0.12 | 2.68 ± 0.20 | 2.97 ± 0.15* |
| LVIDs (cm) | 1.24 ± 0.10 | 1.34 ± 0.13 | 1.58 ± 0.09* |
| LA:Ao ratio | 1.25 ± 0.05 | 1.62 ± 0.02 | 2.28 ± 0.11* |
| FS (%) | 51.44 ± 2.19 | 50.45 ± 1.86 | 46.65 ± 1.86* |
Download Excel Table
Statistical analysis was performed using a commercially available computer-based software program (SPSS Inc., Chicago, Illinois, USA). Platelet count significantly differed among the three groups, as the moderate (P<0.05) and severe groups (P<0.05) showed significantly higher platelet counts than the mild DMVD group. Additionally, significantly higher LVIDd, LVIDs, FS, and LA:Ao ratios were observed in dogs with moderate (P<0.05) and severe (P<0.05) DMVD compared to the mild group, respectively. Correlations between age, platelet count, and echocardiographic measurements as well as serum 5HT concentration were determined based on Pearson's correlation coefficient. Positive correlations between serum 5HT concentration and platelet count (r=0.273, P=0.03), LA:Ao ratio (r=0.459, P=0.001), and LVIDd (r=0.319, P=0.013) were observed (Fig. 1).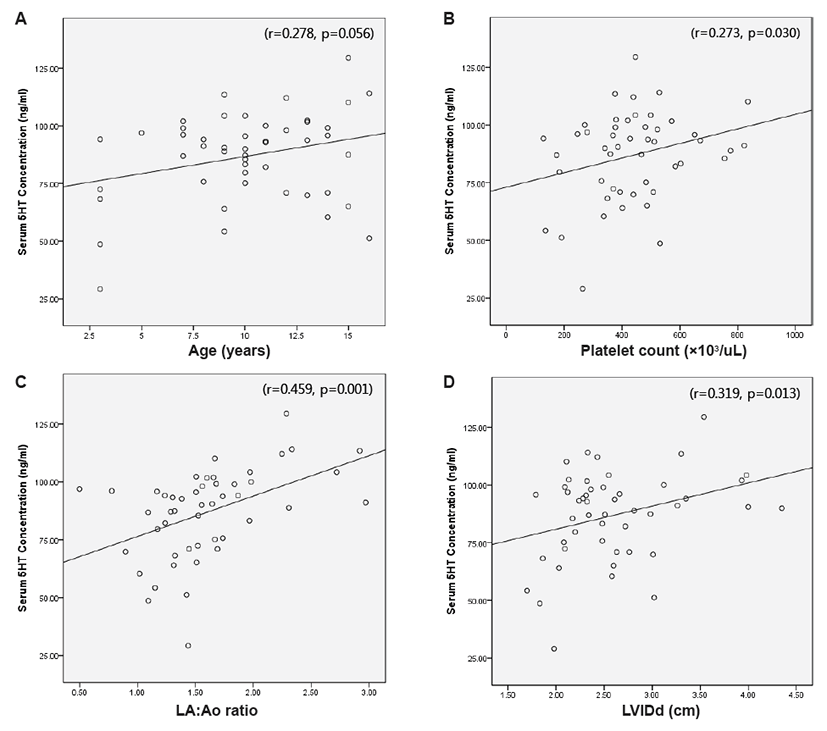 Download Original Figure
Several reports have implicated 5HT-related mechanisms or serotonergic drugs as causes of valvular pathology in humans [21], experimental animals [17, 22], and dogs [19]. The most classical model of 5HT-mediated valve disease in humans is valvulopathy in carcinoid tumors [6], and patients with carcinoid tumors present high circulating levels of serotonin [22]. Furthermore, evidences of 5HT-mediated valve disease and myxomatous valve degeneration have been studied in humans receiving serotonergic drugs, including the anorectic drug combination fenfluramine-phenteramine [11], ergot alkaloids used for treatment of Parkinson's disease or migraine headaches such as pergolide or methysergide [14], respectively, and 3,4-methylenedioxymethamphetamine (MDMA or "Ecstasy") [23]. In the present study, DMVD dogs were medicated with furosemide, ramipril, enalapril, hydralazine, pimobendan, spironolactone, digoxin, theophylline, carvedilol, thiazide, and sildenafil. However, we were unable to determine whether or not the above medications affected 5HT concentrations in DMVD dogs. The relationship between cardiac medication and 5HT concentration in DMVD dogs warrants additional studies.
In a previous study, 5HT administration to canine mitral valve interstitial cells resulted in dose-dependent proliferation, collagen synthesis, and glycosamicoglycan biosynthesis [8]. The dose-dependency of 5HT-induced valvular disease has been demonstrated in rats [21]. In another study, aortic and mitral regurgitations were more frequently observed upon high 5HT treatment, and valves were also thicker upon high 5HT treatment compared to the controls [20]. These studies indicate that concentrations of circulating 5HT affect the progress of degenerative changes in mitral valve tissue in dogs with DMVD.
In a previous study, dose-dependent valvular toxicities of serotonergic drugs, such as valvular regurgitation and increased valvular thickness, were found to be reversible after drug withdrawal. Thus, additional studies are needed to identify agents that may lower serum 5HT concentrations as well as to investigate whether or not lowering the serum 5HT concentration could slow down, stop, or even reverse progression of naturally occurring DMVD. The majority of circulating 5HT is contained in dense granules within platelets, which are attracted to cardiac injuries such as infarction, cardiomyopathy, and valve stenosis and mediate activation of cardiac interstitial cells and fibroblasts upon local 5HT release [24]. Arndt et al. [20] hypothesized that canine valve injury might attract circulating platelets, which are subsequently released. In conclusion, the results of this study indicate that the positive correlations between serum 5HT concentration and platelet count, LA:Ao ratio, and LVIDd could promote the progression of DMVD. Future studies should be performed to reveal the role of 5HT in inducing and accelerating spontaneous DMVD.