INTRODUCTION
Mucosa-associated lymphoid tissue (MALT) lymphoma (ML) is a type of non-Hodgkin's lymphoma involving MALT, commonly the stomach or salivary glands, although virtually any mucosal site can be affected [1]. ML originates from B cells in the marginal zone of MALT, and is also known as extranodal marginal zone B cell lymphoma. It is a slow-growing cancer that usually responds well to treatment. Most reports of MLs in the central nervous system are in the brain [2, 3]. Previous studies have reported that cancer patients are at increased risk for thromboembolic events because of the hypercoagulable state associated with malignancies [4]. Herein, we present a rare case of multifocal cerebral infarction in a gastric ML patient.
CASE REPORT
A 59-year-old woman presented with a 1-day history of quadriparesis and dysarthria. Up arrival at the hospital, motor power in the right upper and lower extremities was grade 3/5 according to the Medical Research Council scale, while that in the left leg was 4/5. In neurological examinations, she was dysarthric and had clumsiness of the left hand. There were no sensory disturbances or ataxia. The National Institute of Health Stroke Scale score was 6.
The patient had been diagnosed with gastric ML 1 year prior, confirmed by endoscopic mucosal biopsy. Immunohistochemical staining was positive for CD20, Pan-CK, and Ki-67; and negative for CD3. She had received antibiotics during the previous 2 weeks. Magnetic resonance imaging (MRI) of the brain showed acute multifocal infarction bilaterally in the cerebrum and cerebellum (Fig. 1). There were no lesions in contrast-enhanced T1-weighted scans. Magnetic resonance angiography revealed no stenotic or occlusive lesions (Fig. 2). Serological testing revealed a small amount of fibrin degradation product (4.1 μg/mL) and slight D-dimer elevation (0.8 μg/mL). No embolic source was identified after conducting a transthoracic echocardiogram, a 24-hour electrocardiogram, and a transesophageal echocardiogram. Secondary prophylaxis with daily administration of 300 mg aspirin was prescribed. The patient was discharged with residual right hemiparesis 2 weeks after the onset of symptoms.

Download Original Figure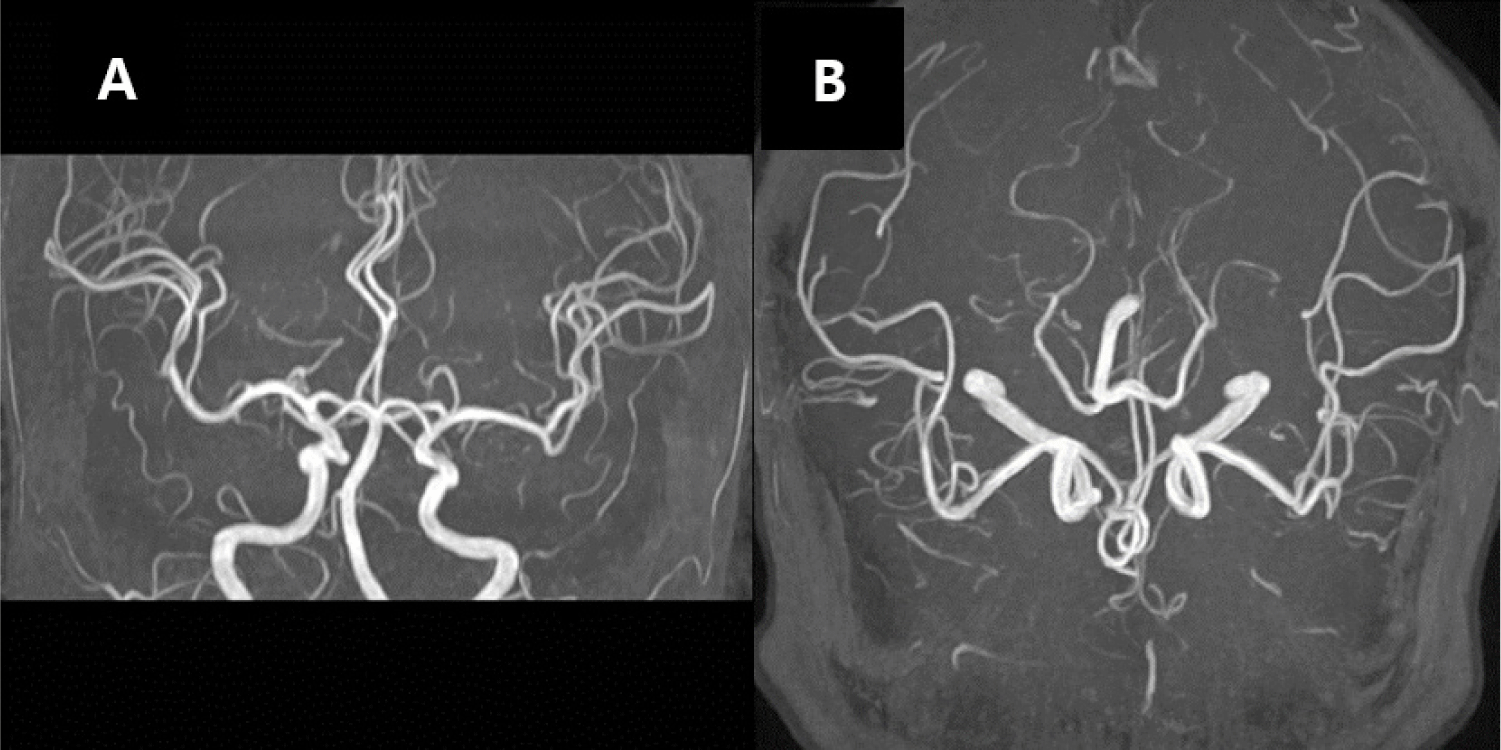 Download Original Figure
DISCUSSION
People with cancer are at an increased risk of thrombosis than the general population. The risk for thrombosis is 5-fold higher in cancer patients than in those without cancer. The incidence of thrombosis is 10%–15% during the cancer course [5].
This was a rare case of gastric ML with acute ischemic stroke. The emergency MRI of the brain performed at the time of presentation showed multifocal embolic cerebral infarction in the cerebral hemisphere bilaterally, which did not have a cardiac origin. The cerebral infarction described in this case has not previously been reported. This is a rare presentation, and the mechanism underlying the association between ML and multifocal infarction is poorly understood.
As reported in previous studies, abnormal clotting is a frequent finding in cancer patients, and can lead to thromboembolic events, including stroke [6]. Therefore, it is suggested that the multifocal infarction in this patient may have been caused by a coagulation disorder.
A chronic inflammatory microenvironment is important for the development of ML [7]. Atherosclerosis is an inflammatory disorder of the arterial vessel wall to endothelial cell injury triggered by various insults, including lipid accumulation. Many inflammatory cells are recruited to the arterial intima, forming atheromatous plaques [8]. Therefore, in this case, the final outcome may manifest as ML and multifocal cerebral infarction [9].
Effective correction of a hypercoagulable state may play a protective role and improve survival in ML patients [10]. Therefore, antiplatelet or anticoagulant treatment must be considered in addition to primary cancer treatment to improve the prognosis.