Introduction
Blepharoconjunctivitis is a combination of blepharitis and conjunctivitis [1]. Major causes of blepharitis and conjunctivitis include infection, immune-mediated disease, allergic dermatitis and neoplasia [2, 3]. Clinical signs of blepharoconjunctivitis include erythema, periocular alopecia, crust, and pruritus [1, 3]. Blepharoconjunctivitis is commonly associated with atopic dermatitis in dogs [2, 4].
Canine atopic dermatitis is a common inflammatory skin disorder in genetically exposed dogs associated with IgE antibodies to allergens [5, 6]. Pruritus is most common clinical signs of atopic dermatitis and has the characteristics of relapse [7–9]. The face, neck, armpit, inguinal region, abdomen and tail are parts presenting lesions in general, but ocular involvement is not common in canine atopic dermatitis [10].
This case was diagnosed as allergic blepharoconjunctivitis caused by atopic dermatitis, excluding other diseases and was managed well.
Case Report
An 8-year-old, spayed female Maltese dog was a one-month history of presented with erythema, swelling and alopecia of periocular region with pruritus at the hospital. The history of skin lesions first appeared at the age of three years and the patient lived indoor. The skin lesions worsened in spring and fall. However, this was the first time that symptoms appeared in the eyes.
The eyelids and conjunctiva including Meibomian glands were markedly swollen and erythematous on physical examination (Fig. 1A). Erythema of conjunctiva and swelling of Meibomian glands were identified via slit lamp microscopic examination (Fig. 1B). The Schirmer's tear test was normal. Impression smear cytology of eyes revealed sterile neutrophils with the corneal epithelial cells (Fig. 2). Generalized erythema was also detected on skin examination but there were no other skin lesions (Fig. 3).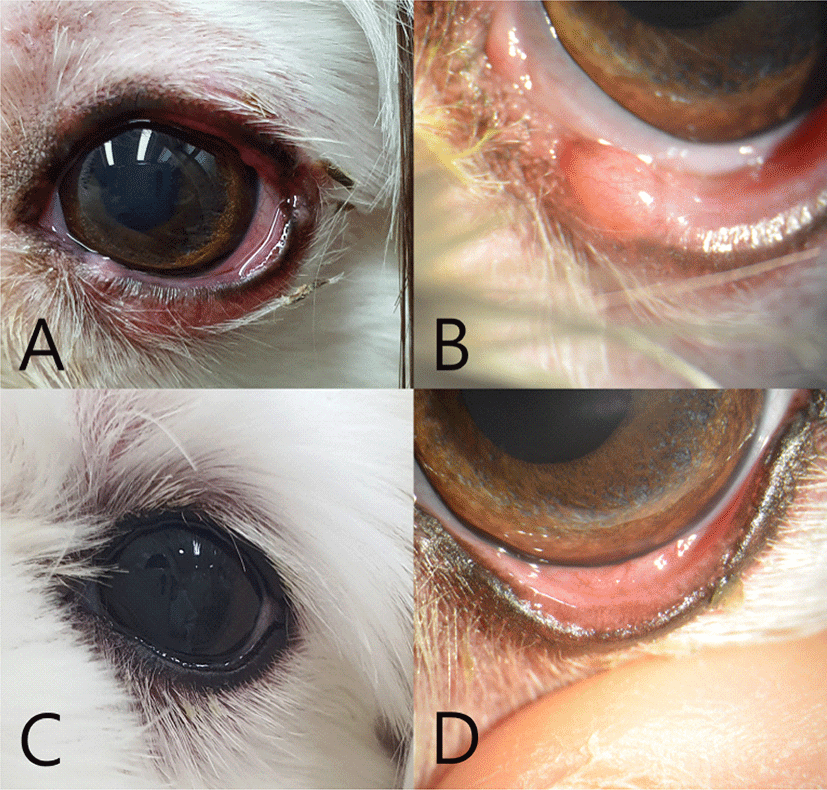 Download Original Figure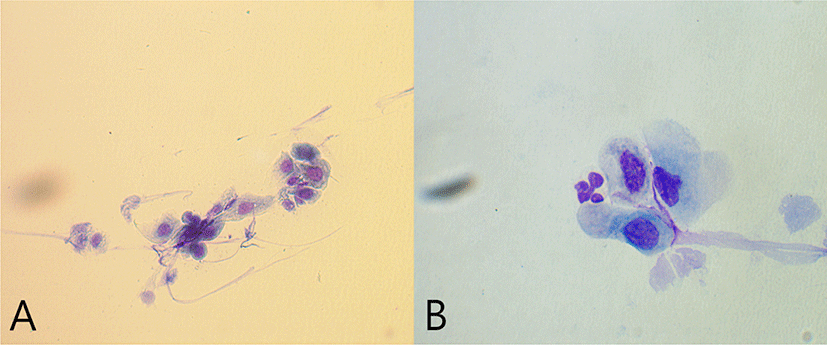 Download Original Figure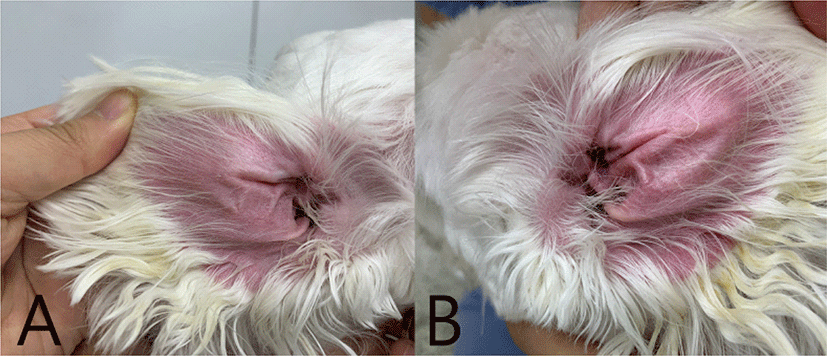 Download Original Figure
A real-time PCR tests using samples taken from pharynx and conjunctiva for Canine distemper virus and Canine herpesvirus 1 (IDEXX Reference Laboratories, Westbrook, ME, USA) were negative. The Canine Atopic Dermatitis Extent and Severity Index (CADESI)-04 revealed mild atopic dermatitis with a score of 18. The visual analog scale (VAS) score was 4 of 10, moderate pruritus. Based on history taking and skin examinations, an allergic blepharoconjunctivitis caused by atopic dermatitis was suspected.
Treatment included cetirizine (1 mg/kg PO bid; Zyrtec® tab, UCB Pharm, Brussels, Belgium), cyclosporine (5 mg/kg PO bid; Cipol-N® oral solution, CKD Pharm, Seoul, Korea), prednisolone (1 mg/kg PO bid; Solondo® tab, Yuhan Pharm, Seoul, Korea) and Forus eye drops® (dexamethasone 1 mg/mL, neomycin sulfate 3.5 mg/mL, polymyxin B sulfate 6,000 IU/mL q8h; Samil Pharm, Seoul, Korea). The dose of prednisolone was tapered over a month. The owner was instructed to wear an Elizabethan collar around his dog's neck at all times and restrict walking. The diet was changed from adult dry dog food to hypoallergenic dog food. Medications and environmental restriction significantly reduced swelling of Meibomian glands, erythema and edema after 3 weeks. Also pruritus was decreased. Six weeks later, the edema lesions disappeared (Fig. 1C & D). For two month follow up, the symptoms did not recur.
Discussion
The dog showed erythema of eyelids and conjunctiva, swelling of Meibomian glands, alopecia of periocular region and pruritus in the present case. Other eye diseases were ruled out by ophthalmological examinations. The dog was evaluated canine atopic dermatitis extent, VAS, and severity index and skin condition [11, 12]. After treatment with medications including glucocorticoid, the pruritus of patient's eyes was decreased. Finally, an allergic blepharoconjunctivitis caused by atopic dermatitis was tentatively diagnosed based on history taking, skin examinations and treatment response.
In human, eyes are commonly affected organ in allergic disease and blepharoconjunctivitis is commonly associated with atopic dermatitis [13, 14]. Atopic dermatitis can cause ocular complications such as blepharitis, keratoconjunctivitis, keratopathy, corneal ulcer and abnormal tear function and conjunctivitis causes abnormal structure of Meibomian glands in humans, but it is uncommon in dogs [10, 15, 16]. The present case showed swollen Meibomian glands, which were located partly in the eyelids. The glands can be affected by underlying diseases such as bacterial infections, tumors and allergic disorders [17]. In human with allergic blepharoconjunctivitis, conjunctival cytology includes inflammatory cells likes eosinophils, neutrophils and lymphocytes [18], whereas the corneal epithelial cells and only few neutrophils were shown in the impression smear cytology of eyes in this case. In histology, hyperkeratosis, acanthosis, and dermal infiltrates of eosinophils and mast cells along with deposition of major basic protein in human [19].
In humans, blepharoconjunctivitis is treated with antibiotics, steroids, antihistamines and mast cell inhibitors [14, 20]. This case shows a significant improvement using medications and restricting environmental factors. Antibiotics are recommended due to the increased susceptibility to infection resulting from compromised innate immunity in the eyes of atopic patients [21]. Steroids and antihistamine are used to reduce skin problems and pruritus in canine atopic dermatitis [22, 23]. In this case, the drugs relieved ocular erythema and swelling. In humans, cyclosporine is also used to treat blepharoconjunctivitis associated with atopic dermatitis [14, 24]. Cyclosporine is an immunosuppressive drug used to prevent the transcription of cytokine genes in activated T cells and mast cells [25, 26]. The drug is used to reduce the inflammation as a long term treatment sparing steroids. The owner was instructed to wear an Elizabethan collar around his dog's neck at all time and restrict walking. The symptoms were improved with appropriate treatment.
This case report has a limitation. It is necessary to do biopsy to rule out other etiologies, in particular immune-mediated diseases. As the eyelids and conjunctiva were not easily taken for histopathology with owner's compliance in the present case.
In conclusion, an allergic blepharoconjunctivitis was successfully managed with anti-allergic drugs and by avoidance of environmental exposure. The whole body must be evaluated to identify skin problems and/or diagnose canine atopic dermatitis when the patient has blepharoconjunctivitis not focus on only the eyes.